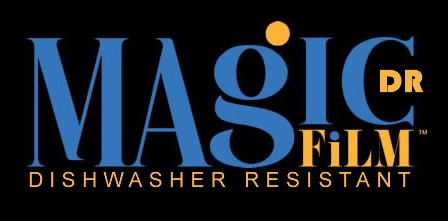 UV Decal
Transfer

Film (UV DTF)
Let's discuss.


You asked for it, We've Got it!
"Dishwasher Resistant" Magic Film.
Central Chemical & Service strives to be your trusted source for UV DTF (Decal Transfer Film).
DR Sample Pack
DR Processing Instructions
DR
DISHWASHER RESISTANT
Offers the most aggressive adhesive available for Dishwasher Resistant and Difficult to adhere Surface Applications. We are knowledgeable and informative about every product we offer in helping you be more successful in business.
We don't have the ability to qualify all glassware and difficult surfaces you'll face in product decorating. However, all glassware and tumblers that we've tested have had over a 99% success rate withstanding hundreds of dishwashing cycles.
When addressing other Difficult Surfaces, any product that contains high levels of silicone or other release additives involved in the production process, Magic Film (DR) will most likely not adhere.
Contact us today! For samples of this New Technology. See if Magic Film (DR) can offer you the solution to your challenging product decorating project.
Innovative Print Solutions
Magic Film Dishwasher Resistant, Magic Film DR
Are you ready to start bringing your designs to life?